Welcome to the North American RC-SIG Home Page

Click here for 171 .jpg and .mpg images taken from RC-SIG III, held at Iowa State University in Ames, Iowa.
What is the RC-SIG?
click here or on image for full-scale view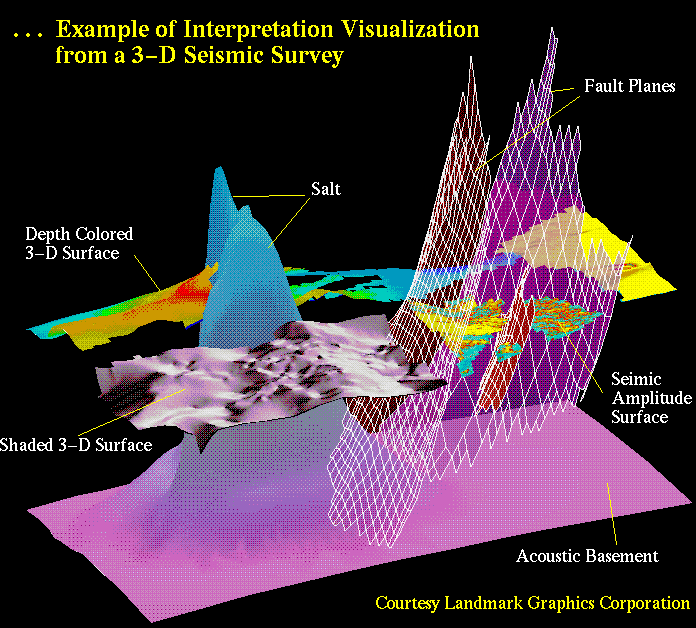 The RC-SIG was established in Europe in November of 1997 to create a network of like-minded people, experienced in the operation and management of Reality Centers (also refered to as human scale immersive environments), to share information, and to aid those who are building or operating new facilities.
The group aims to provide an arena for disseminating both the day-to-day operational issues and the long-term business issues that can occur in these facilities. To support the number of oil and gas professionals using large scale visualization, the GSH (Geophysical Society of Houston) became the first professional society to endorse a North American Visualization Special Interest Group.
Here you will find information about upcoming events, as well as presentations from previous meetings. This site is intended for RC-SIG members. If you would like more information about joining the North American RC-SIG, contact H. Roice Nelson, Jr.
What is a Reality Center?
This is an evolving definition, complicated by the fact SGI Trademarked the words Reality Centre. The RC-SIG considers a Reality Center to be an Advanced Visualisation and Collaboration Facility for interacting in real-time with virtual models and processes, combining high end computer hardware with large-scale, immersive projection technology.
Who is in the RC-SIG?
The group has grown from 10 or so founder members in Europe to about 200 in late 2000 with separate organizations in Europe, North America, and Australia. Several universities are represented, as well as many highly regarded companies and government research agencies. All member either own or are building a human scale immersive environment.
How do I join?
If you own a facility and worry about problems such as "How do I deal with the industrial tourists?" or "How do I get funding?", or, if you are in the process of purchasing a facility and want advice on issues that arise, then you probably would benefit by participating with this group. The North American RC-SIG has elected to keep membership open to anyone interested in attending meetings on a 6-9 month interval, and interested in keeping up with information posted at this web site. As there are more participants, the Leadership Team will consider formalizing membership for the North American RC-SIG.