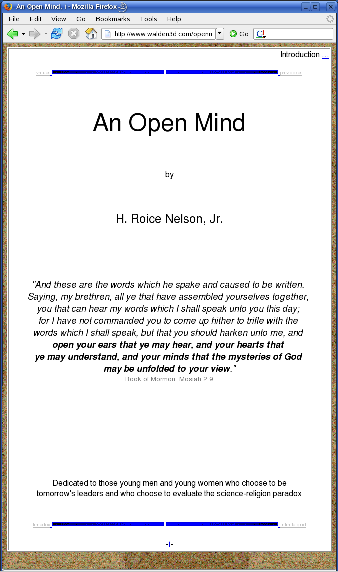 Click on image above for fullsized page.
An Open Mind
A book about reconciling science and religion.

Quoting from the preface:
"This book is about paradoxes. It is written by a geoscientist with faith. In some religious and in some scientific communities this is THE "modern day" paradox (at least for the last 200+/- years). Although I, the author, exercise my faith through a specific organized religion, this book is written with the unattainable goal (another paradox) to help those of faith from all religions, or those outside of organized religion, in their personal quest to reconcile scientific discovery with their faith in God. At the same time, I hope some of these words will help my scientific colleagues become more open to the role faith can play in their lives."
This is a work in progress:
Chapters 1, sections 1-5, Chapter 2, sections 1-3, and Chapter 3, section 1 of 10 planned chapters are completed, along with 61 figures, the framework for 4 supporting indices, references, an index, and an Appendix taken from the AAPG (American Association of Petroleum Geologists) Reader's Forum about science and religion are online for your free review.
Click here to read completed portions on-line.
--------------------------------------------------
Availability of completed portion: in stock 1 copy.

Completed portions will be re-printed by Kinkos and shipped
within 2 weeks of depositing payment for the order.

254 color pages ($0.45/page color) with 3 large inserts (64 sq ft at $1/sq ft) plus $20 profit: $200.

or

CD with book as html files: $25.

Above prices include shipping and taxes. --------------------------------------------------
See order1.html for more details.
W3D considered setting up a Merchantile Account with the ability to add this item to a Shopping Cart and pay with MasterCard or Visa. However, until there is more sales volume send payment as a personal check, a business check, a cashier's check, a money order to, or call to get wire transfer instructions from:

Walden 3-D, Inc. P.O. Box 382
Barker, TX 77413-0382
281.579.0172 f: 281.579.2141

and we will deliver once payment is deposited and as specified in the availability described to the left.