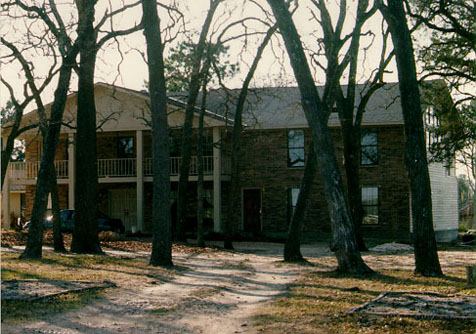 The Turner studio adjoining his home is located in New Ulm Texas, where he resides with his
wife Nell and their seven childern.

Kenneth Richard Turner
July 4.1948
Education
Began drawing at the age of 3

Formal art training began at age 11

Harry Worthman, first tutor

Bachelor of Fine Arts, University of Houston 1971

Protege of Lajos Markos 1974-76

Professional Career
Taught sculpture at the University of Houston 1972
Taught painting, Art League of Houston 1973-74
First one man Shows, Tyler Texas 1978
One-man show Gallerie Barbizon 1979
Eight additional one man shows 1979-1996
Numerous other exhibitions
Continous exhibition Ishtar Gate Gallery. "The Galleria." 1978-1992
President Live Oak Art Center 1991-1992
Curator of African Art, Pre-Columbian Art, Retablos of Curt Stevens and
exhibitions from the private collection of David and Eula Wintermann
Exhibition chairman for Sarah Campbell Blaffer Collections, Goya, "Los
Disastres De La Guerra y Los Proverbios "," Aspects of British Painting " and
"Dutch Painting" Live Oak Art Center.
Exhibition Chairman for " The Best of Times " on loan from The Museum of
Fine Arts Houston-Live Oak Art Center.
Awards in Competition
Westbury High School Art Scholarship Award 1966
Conservative Art Scholarship Award 1967-1971
Senior sculpture project erected for display on University of Houston campus
" Dimension Houston", Competition Awards, 1971 and 1972
" Young American Artists", Geneva Switzerland 1974
" Festival of the Arts", Provo, Utah 1982
Springville Art Museum, 1983
The Church Museum of History and Art, Salt Lake City, Utah 1984
Exhibit in the rotumda of State Capitol of Texas 1986
Exhibit at the Republican National Convention 1992
Proclamation of recognition celecrating his talents from Mayor and Houston
City Council 1994
Exhibited as part of a Witte Exhibition, Fort Bend Museum 1996
Exhibited " The Ghost Dance ", Fort Bend Museum 1996
Galleries
Herzog Gallery 1976-1977
Gallerie Bardizon 1978-1979
Ishtar Gate Gallery 1976-1992
Brass Door Gallery 1980-1983
Old West Gallery 1981-1982
Frontier Gallery 1982-1984
Gallerie International 1984-1987
Horizon Gallery 1984-1991
New Land Gallery 1993-
N and M Gallery 1995-
Ishtar International 1992-
Gabrielle Gallery 1996-
Heritage Gallery On-Line 1996
Catalogue
In The Collection of:

Ali and Florence Al Abssi, Houston, Texas
Benito and Lupita Albarran, Goodyear of Mexico, Guadalajara, Mexico
Marty Aikens, Houston, Texas
A.R.E.N.C.O., Galleria Two Houston, Texas
Hilal Al Mansoori, Al Mansoori Specialized Engineering Abu Dhabi U.A.R.
American Liberty Hospitality Houston, Texas
Atlas Van Lines, Detroit, Michigan
Abdulla Al Attass, Houston, Texas
Roy and Molly Bennion, Houston, Texas
Dr. Larry Brandt, Houston, Texas
Joe Brown, Brown Oil Tools Company, Houston, Texas
Dr. Harold Black, Hempstead, Texas
Mohamad Bin Ladin, Ryadh, Saudia Arabia
Donald Bonham, Fiesta Food Markets Houston, Texas
Dr. Bruno Britemeyer, Houston, Texas
Dr. Doug Chute, Canada
Commerical State Bank, Houston, Texas
Convest Petroleum Houston, Texas
Dr.Kay Clifford Los Angelas, California
Deloitte Haskens and Sales Dallas, Texas
Don Dexter, Taos, New Mexico
Jerry Evans, C.E.O. Wilcrest Engineering, Houston, Texas
Robert and Jet Eckels, Houston, Texas
Don Faust, Faust Distributing, Houston, Texas
First State Bank, Tyler, Texas
H.Greg Goodman, Houston, Texas
Vanda Greenwood, Miami, Florida
Alghatany Company, Saudia Arabia
Dr.Tilal K. Hafiz, Washington, D.C.
Sami Bin Hamoud, Muscat, Oman
Bob and Jenny Hirsch, Katy,Texas
Leon Hirsch, Houston, Texas
Mattie Krosnik, Columbus, Texas
William Lerher, Garwood, Texas
Louise Levy Houston, Texas
Tom Lockhart, Albonito, Puerto Rico
Joe Mannke, Rottisserie for Beef and Bird Houston, Texas
Jim Motley, Motley and Associates Houston, Texas
Claude E. Maurer, Buenas Aries, Argentina
Prince Mohamad Ibn Abd Al Aziz Al Saud, Ryadh, Saudia Arabia
H. Roice Nelson, Walden 3-D Barker, Texas
Abdullah Nasser, Advisor to Sheik Zahid and President of Awlad Corp., U.A.R
Abdullah Otaibi, Vice council, Royal Saudia Arabian Consulate Houston, Texas
Oaks Construction Houston, Texas
James Prue, San Antonio, Texas
Frank Pearson, Brass Door Gallery Houston, Texas
Prairie Producing Company Houston, Texas
Greg Posey, Posey International, [Port of Houston Man of the Year 1982] Houston, Texas
Petroman Tankers and Mineral Shipping Jeddah, Saudia Arabia
George Pawley, Katy, Texas
Tilan Saklou, New York, New York
Dr. Ali Seif, Mcallen, Texas
The Sheraton Astrodome Hotel Houston, Texas
Jon Shulz, Houston, Texas
Collins W Steward, Katy, Texas
Stuart Sycher, Sealy, Texas
Joseph and Linda Roberts, Houston, Texas
The Church of Jesus Christ of Latter-Day Saints, Maplewood Chapel Houston, Texas
Toshiba Inc., Tokyo, Japan
Trapp Geophysical, Houston, Texas
Mark C. Thomas, Houston and Dallas
Richard Thompson, North Carolina
Patrick Tittle, Modesto, California
Y. A. and Minnette Tittle, San Francisco, California
Carl and Bertha Tautenhahn, Houston, Texas
Enrico Urdanetta, Maricaibo, Venezuala
Dr. H. Murphey Webb, Houston, Texas
David and Eula Wintermann, Eagle Lake, Texas
The John L. Wortham Co., Houston, Texas
A. Zahid, Greenwich, Conn.

The preceeding list is an incomplete catalogue .If you have an
original " Turner, " please contact us here at Heritage Gallery
to establish authenticity.

Back