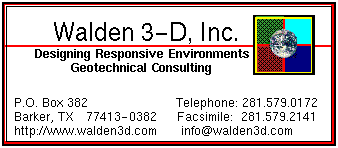 . . . Index to Introductory Power Point Presentation

Click Here to download W3D_Infinite_Grid_Intro.ppt

This page is at: http://www.walden3d.com/H/sample/intro/index.html
CONFIDENTIAL INFORMATION
If you have access to this page, it is because Roice Nelson, or someone who Roice Nelson trusts has given you this web address. Please send an e-mail explaining your interest in the Infinite GridSM, and please do not pass the address to this page to those who will attempt to use this information for personal gain at the expense of Walden 3-D, Inc.
Copyright &copy 2001 Walden 3-D, Inc.
All rights reserved. Published in The United States of America
This page, or parts thereof, may not be reproduced in any form without permission of the publisher.

For further information contact:
Walden 3-D, Inc., P.O. Box 382, Barker, TX 77413-0382
- 281.579.0172 - facsimile: 281.579.2141 - cell: 713.542.2207 -
- URL: http://www.walden3d.com - e-mail: rnelson@walden3d.com -