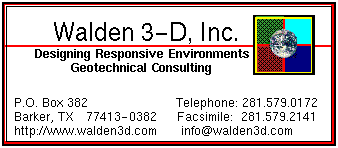 . . . Examples of Applications for the Infinite GridSM

Context:
By copying the spread-sheet at http://www.walden3d.com/H/sample/hcct_input.xls to a new spread-sheet at http://www.walden3d.com/H/sample/hcct_ozone_example.xls, an example of using the Infinite GridSM was developed. In addition a couple of hours was spent searching the world-wide-web, and some screens were captured to show how other data can be combined with the work that has already been done. The bottom line is that this simple process is empowering, and needs to be made available to everyone as soon as possible.
Screen Captures:
Doing Boolean Operations Between Maps:
Note: click on thumbnails for expanded image.
Map from the WWW showing
Harris County Ozone 01 May 2002
|
|
|
V
Worksheet B: IG4 manual entry of ozone
where value entered was (81)*(value from WWW)
this is because the process of converting from
IG4 to IG5 is set up to divide IG4 cells by 81
|
|
|
V

*

=

Worksheet A: IG5 Traffic
Created by pasting a 5 in cells along major freeways
Worksheet C: IG5 Output
Worksheet D: Traffic * Ozone
|
|
|
V
Worksheet D: Traffic * Ozone
not selected so Census Tracts show
|
|
|
V
Worksheet E: Census Tract Table showing
which Census Tracts are affected by an arbitrary
assignment of traffic and measured ozone on
01 May 2002
Other Data Which Could Be Used In The Infinite GridSM
There was an interesting article in the Houston Chronice about an elementary school putting out a flag to show the level of the ozone alert (see flagging_ozone.jpg and for the color code hc_ozone_color_code.gif). There are databases of public information which can be directly read into the Infinite GridSM. There are numerous agencies that collect information of interest to the public and to public adminstrators. For example, this link is to a map of the recharging capability of aquifers from groundwater. Related to natural systems are the locations of Parks. This link shows how parks are administrated in Harris County, and this link shows a detail map of parks in West Houston.
Government Agencies spend a lot of taxpayer dollars providing services that make society work. There are efforts to make the results of these expenditures available to the public. Appraisal Districts are an example. This link shows appraisal districts for Harris County, this link Katy appraisal districts, this link Katy appraisal district 4758, and this link the actual appraisal of each lot in facet 5 of 4758. Then there is all of the work the police do. This link shows police divisions in Harris County, this link shows police divisions in West Houston, this link shows a map of crime in West Houston, and this link is a table of all offenses in a specific police division beat. Hopefully it is obvious to the reader how much better all of this type of information can be distributed using the Infinite GridSM.
The public has many interests that can also be mapped using the same approch shown in this proof-of-concept for Harris County, Texas. This link shows Metro Transit Stations. This link shows Metro Park-and-Ride locations. This link shows where commercial real estate is available. This link shows details on available commercial real estate for a specific location. Note that Infinite GridSM cells can be links to details like this last example. And of course, as in any democratic society, there is tremendous interest in voting and voting patterns, as shown by this link, and this map close up, which can easily be sponged into the Infinite GridSM.
Next Steps:
Find a funding mechanism to develop and distribute the Infinite GridSM. Walden 3-D, Inc. has an excellent team of developers available to work on this project either alone or in conjunction with a political or research group.

This page is at: http://www.walden3d.com/H/sample/Ozone/index.html
CONFIDENTIAL INFORMATION
If you have access to this page, it is because Roice Nelson, or someone who Roice Nelson trusts has given you this web address. Please send an e-mail explaining your interest in the Infinite GridSM, and please do not pass the address to this page to those who will attempt to use this information for personal gain at the expense of Walden 3-D, Inc.
Copyright &copy 2001 Walden 3-D, Inc.
All rights reserved. Published in The United States of America
This page, or parts thereof, may not be reproduced in any form without permission of the publisher.

For further information contact:
Walden 3-D, Inc., P.O. Box 382, Barker, TX 77413-0382
- 281.579.0172 - facsimile: 281.579.2141 - cell: 713.542.2207 -
- URL: http://www.walden3d.com - e-mail: rnelson@walden3d.com -